Happy Wednesday team
Wow, haven't the last two weeks just flown by?! There's nothing quite like a four-day week to squeeze five days of work into!
Since our last newsletter, the Trans-Tasman bubble has opened and it really is terrific news, especially for those of us exposed to tourism activity. Hopefully all those positively impacted have their marketing plans in full swing. I know one of our Grow NZ members, who is also a marketing client of ours, got off to a flying start when the bubble opened and has already generated over $2 million in sales, with returns higher than 10:1 -terrific proof the Aussies are keen to come and visit. Go get em!
Some other exciting news this week is that Grow NZ Business will formally open in Otago – Southland this week,  adding to our support offerings in Auckland, Bay of Plenty and the Waikato. We will be sending out a separate communication directly to all of our members in the Otago – Southland region in the next few days.
All members should also stay tuned for another big announcement coming next week. We are launching a New Zealand first that promises to bring about big change in the online payments space; If you have an ecommerce business, you'll want to be across this industry development!
For now though, it's time to make good on our promise at the end of our last newsletter and reveal the second digital marketing channel we believe many kiwi business should be using for faster growth…anyone get the clue in the title?
Pinners are winners.
In our last email, we explored the potential of search engine, BING, as a complimentary or alternative channel to Google, and this week we explore another channel, which can be very useful for search and social media engagement.
This channel is Pinterest and because it is often a 'forgotten' channel, we find it can be 30% to 40% more cost effective with reach than Facebook or Instagram. It's especially useful if you are targeting affluent female decision makers, for both direct to consumer & business to business (B2B) models.
Just like BING, Pinterest can help to get your business in front of potential customers who are not always reachable via Google, Facebook or Instagram.
Pinners are spenders.
It may surprise you to know that Pinterest is the third largest search platform on the Internet, right behind Google and YouTube. So not only is it a popular form of social networking and visual marketing, it's a pivotal search channel, meaning SEO and keyword strategies are a must.
Research by Gigacom found "pinners" (Pinterest users) have a higher propensity to buy and when they do, they also spend more than other comparative channels.
Average order value on Pinterest: $179.36
Average order value on Facebook: $80.22
Average order value on Twitter: $68.78
Seeing is believing.
Over 90% of the information we consume around us is visual, so it makes huge sense that Pinterest is the place to be to build your visual brand awareness and get in front of prospective customers in the middle of their buying process, if not at the start of their buying process. Over 97% of the top searches on Pinterest are unbranded, meaning you can reach potential customers early, before they have made up their minds (source: Pinterest Business).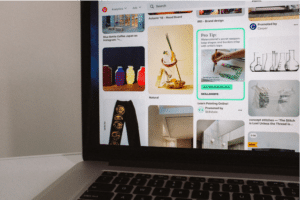 Getting started on Pinterest.
To create Pinterest ad campaigns, you first need to create a Pinterest Business Account. With your business account, you can track analytics, build custom audiences, verify your website, run traffic ads, run awareness ads, and run conversion ad campaigns.
The best strategy for Pinterest is both organic and paid. We suggest turning organic pins into ads so that they are seen by more people. Knowing your SEO and keyword strategy is also key to winning business on Pinterest.
The 3 ad campaigns you can create on Pinterest.
Traffic Campaign
Pinterest traffic campaigns are the place to start. Traffic campaigns drive consideration and increase traffic to your destination on or off the Pinterest platform.
You actually have to run a traffic campaign before you can do a conversion campaign on Pinterest. You will need to have your site verified and your pixels in place on your site.
Keyword traffic is the preferred method for running traffic, although you can do an interest campaign if you are going after a specific category that you think your product or service will serve.
 
Conversion Campaign
Conversion campaigns on Pinterest are incredible. When working with my clients I love that we can really track and measure ROAS (return on ad spend).
With Pinterest, every pin has to have a destination. Where are you taking your customer when they click on your pin? You can take your customers straight to the offer page, sales page, and of course your website if you choose. As we have mentioned in previous newsletters, tailored landing pages supporting your key messages is critical.
  
Awareness Campaign
More and more customers are looking for unique ideas and things that inspire them, they are turning away from known brands and looking to support small business owners.
Awareness campaigns help pinners discover your brand, products, and other services. This is one of the fastest ways to get exposure on Pinterest, especially if you have a time-sensitive offer.
I would consider this strategy the top of the funnel campaign – getting eyes to your products or services. If you've not been on this platform before, or are new to business, leveraging this visual awareness is very powerful.
Keen to make Pinterest work for you?
Most business owners struggle with the 'how' of Pinterest. How do I leverage Pinterest to grow my business? How does a pin work? How does an ad campaign work? What am I looking for in the metrics? Each business is unique and some things you will be able to work out intuitively, or with the help of Pinterest online support, but understanding how promoted pins work is one area I'd suggest all businesses seek expert help.
Grow NZ Business is a registered partner with Pinterest and we'd be more than happy to help get you on your way to revenue growth via Pinterest.
Most importantly though, it is vital that the mix of Pinterest, or Bing, or Google, or Facebook etc. aligns with your goals, your customer journeys and your overarching marketing strategy to deliver the best returns for your business. And when it come to marketing strategy, we are experts at helping Kiwi business grow profitably – if you would like a hand, we would love to hear from you.