Grow NZ Business is proud to announce it's partnership with Buy Kiwi!
Supporting Kiwis in business is very important to keep our economy going and growing. 
"As a proud Kiwi, I enjoying buying from local business owners and also buying from Kiwi owned businesses online. Keep buying NZ products Kiwis."
Buy Kiwi is an eCommerce platform where Kiwis buy from Kiwi Businesses to support New Zealand jobs, businesses and their local communities.
The more kiwi dollars we keep in New Zealand rather than sending to overseas companies, the more it helps our local communities thrive and prosper, and helps to keep Kiwi jobs in New Zealand.
More About Buy Kiwi
We are here to help New Zealand thrive by connecting Kiwis with Kiwi-owned businesses.
We are currently building a world-class eCommerce platform to connect Kiwi shoppers with Kiwi businesses. Our goal is to make it easier for Kiwis to have confidence that they are supporting kiwi businesses, and not accidentally sending their valuable kiwi dollars to overseas companies.
Not only will you be able to purchase from Kiwi Businesses online, but you will also be able to search for local businesses who provide the products and services that you are looking for, again with the confidence that you are supporting a New Zealand owned business.
Why Are We Doing This?
At Buy Kiwi, we believe if we support kiwi businesses, it is good for our New Zealand communities and our economy.
Supporting local businesses helps to maximise local employment while also minimising the number of kiwi jobs being sent overseas. Additionally, it also reduces the amount of New Zealand dollars being sent overseas and can help to reduce the "importing of inflation" from other countries.
We also aspire to help kiwi businesses reach overseas consumers as well as connect with ex-pat Kiwis who would love to source some Kiwi products that remind them of home.
So, whether you are a fanatical kiwi shopper who wants to support local, or you are a Kiwi-owned and operated company that would love to join us on our exciting journey – we would love to have you on board.
Come on and join us – we are all about Kiwis supporting Kiwis, to help our local communities thrive & prosper.
Who We Are
We are a group of New Zealanders passionate about helping New Zealand thrive and believe one way we can make a difference is by supporting New Zealand owned businesses rather than sending our hard-earned dollars to overseas-owned companies.
We know together we can make a significant difference, the more kiwi dollars we keep in New Zealand rather than sending overseas, the more it helps our local communities thrive and prosper.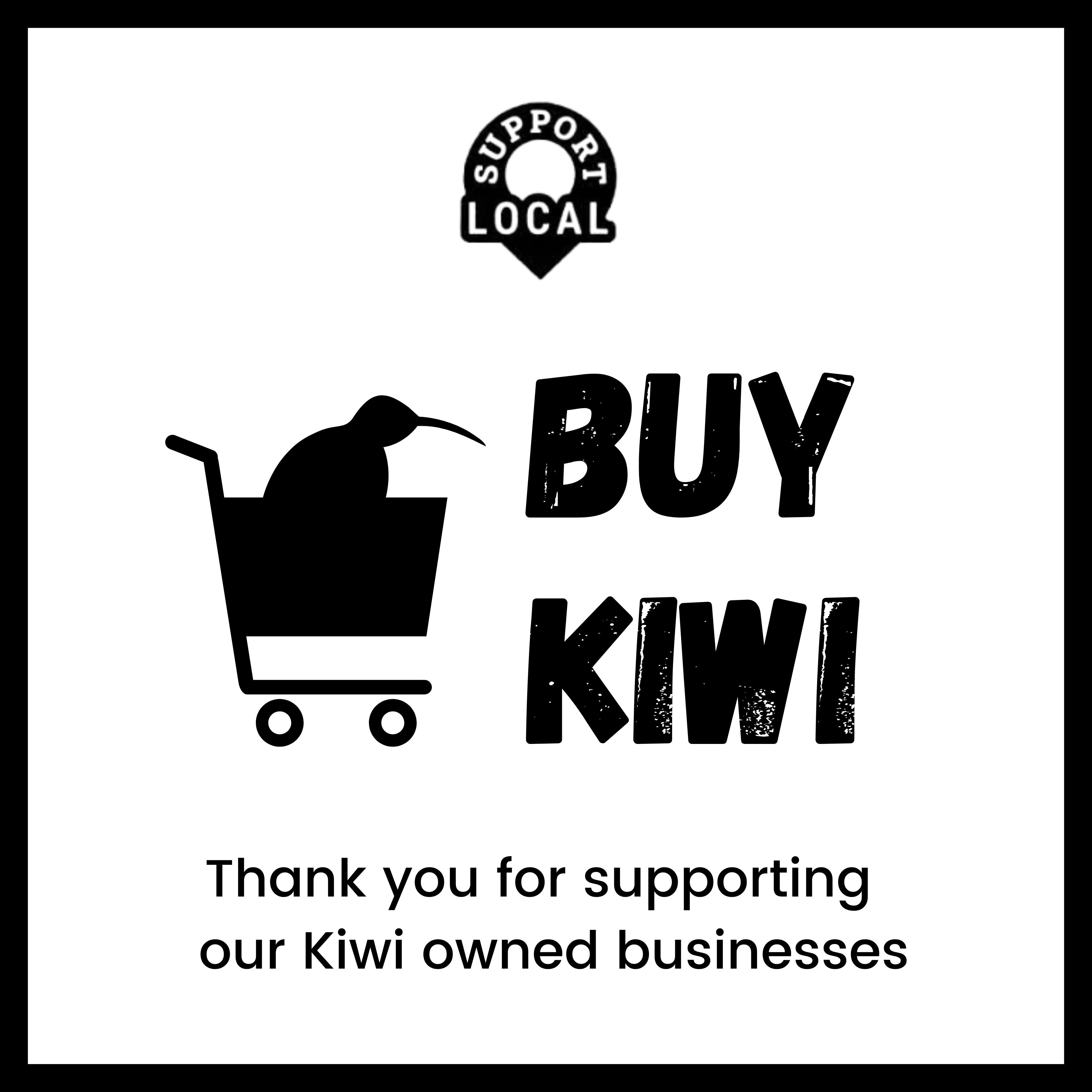 Join us and very soon you will be able to browse and buy online from NZ-owned and operated businesses. And when shopping locally, keep an eye out for our logo, if you see it in the local store's window or at the point of sale, you can be confident you are supporting a New Zealand owned business.
Each purchase helps support a Kiwi business, their families and the local communities each business operates.
You will also be able to search on our platform for local businesses.
And have the confidence you are being connected with a New Zealand owned business.
We are your Kiwi Shop Online.
Reasons why supporting local is important:
It can provide more and better employment
In New Zealand, more than 2.3 million people are employed by over 500,000 locally owned and operated New Zealand businesses. Local businesses are often more flexible to employees' needs – giving staff a higher quality of life, and a town with multiple businesses provides a variety of employment options. Multiple businesses result in more associated employment. For example, a town with 20 small shops can support an accountant whereas a big box retailer will have their own accounting team at head office.
The variety of employment options means that people are more likely to stay in the community with their families, increasing the chance the local school will stay open. Entrepreneurs and employers stay living locally, increasing the knowledge and skill base of the town.
Locally owned businesses allow 2.5 million Kiwis to live outside of Auckland, Wellington, and Christchurch often resulting in lower travel times to and from work and helps with Kiwi's achieving their aspiration of home ownership. Housing is often more affordable in New Zealand towns versus our largest cities.
It's good for our planet
Locally owned businesses make more local purchases and often produce goods locally,, shortening the supply chain and decreasing emissions from transportation. They are generally located in town centres or home offices, reducing urban sprawl, congestion, habitat loss, and pollution.
It helps communities to become more resilient
When towns are built around one employer, they lack the resilience of a town made up of a number of small businesses. If one employer fails then many in the town can become unemployed. Local businesses also offer a focus point for the community and form relationships with their customers. This interconnectedness increases the resilience of the town and the sense of belonging to a community.
Local businesses support their communities
Local businesses tend to donate more money to local schools, events, and teams than large corporates or even overseas-owned companies do. They often provide essential funds for projects that big businesses aren't interested in sponsoring – for example, sports teams' uniforms or school music trips.
Local shops are more likely to stock the products their customers need – not those they are told to stock by head office. Shopping becomes a more interesting experience when there are 20 small businesses rather than one big box retailer, offering diversity to local communities.
It keeps money in the community.
When you buy from independent, locally owned businesses, more money is circulated through the community, about 48% compared to 14% from big businesses. Small businesses contribute 28% of New Zealand's GDP, and locally-owned businesses reduce inequality by spreading wealth. 20 or 30 small businesses all take a share of the money spent instead of one large overseas-owned company funnelling money out of town, and overseas to its shareholders.
And there are many, many more reasons to support local, and to support New Zealand owned businesses, and where possible, New Zealand made products.
What we do know, is together we can make a difference. Kiwis supporting Kiwis to keep our hard-earned dollars and jobs in New Zealand. We can thrive and prosper together by supporting each other.
Access to Kiwi Deals and Special Offers.
And if you like deals, you will be able to grab one, two or even more with us, knowing with confidence you are supporting New Zealand & New Zealand owned businesses.
Not only that, but you will also be able to grab one or more deals anytime, anywhere thanks to our easy-to-use eCommerce platform that we have built focused on your experience as an online customer. We are the market for deals from New Zealand businesses, please make sure you always check us out when looking to buy anything online, rather than sending your hard-earned dollars to overseas companies.
What about Gift Certificates?
Yes, we will be releasing gift certificates at launch. Whether it's for a birthday, a special occasion, a thank you or if you are a business owner or manager, perhaps to reward and recognize your employees, you will have the confidence your hard-earned dollars will be spent with Kiwi businesses, rather than being sent to overseas companies.