Some déjà vu creeping in again this week with Auckland back to Alert Level 3 and the rest of NZ Level 2, but, as frustrating as it is, we at Grow NZ, continue to believe better things are coming. So, continue to knuckle down, activate your contingency plans, adapt what you need to adapt and get yourself ready for the great upturn.
I've made a bold claim in the subject line this week, and I stand by it. Pour yourself a coffee for this one and promise me you'll persevere to the end. You won't regret it.
To start off, I need to admit that in my 30 years in business I have always loved business models and have been fascinated by what makes them successful, or not, at different periods of time. The one constant in whether a model succeeds or fails is change; change in markets, competition, regulation, customers, new products, or services.
I therefore consider myself fortunate to have started my own business career at a time when the entire world was in a state of major change. A change that progressed at a much faster rate than others had historically – the digital age. Now, before you go 'yawn, here we go, another digital sermon from another digital preacher', I want to clarify that digital itself is  not where my fascination lies. My fascination is all about what digital  means – for business models, for customers, for business owners and for those all-important profit & loss and cashflow statements.
While many feel the digital age has made business more complicated, I would argue that strategically, business has been simplified to answering just two big questions:
1/ What do my potential customers want, how much will they pay and can I deliver it at a margin that meets my business goals?
2/ Is my business model designed effectively to answer question 1. (If you are interested in more about business models- I recommended this read: The Transformative Business Model)
We're going in deep this week team. Bottoms up.
The one thing I love more than business models…
…is data. Data and the insights we can generate  from it. Something you may not know about me is that I am black belt, not in karate,  but in Six Sigma, a business methodology using a series of tools and techniques which I have used to help turnaround many businesses, both large and small.  The digital age has made data very easily available, almost eliminating the need for guesswork around customer demands.
But, while digital data has come a long way since the days of legendary business folk, like Henry Ford, the way we delight a consumer has not.
"If I asked my customers what they wanted, they would have said a faster horse." – Henry Ford
For this reason, it's what we do with the data-led insights we generate that will change the game for our businesses.
All of us need to be over-managing digital within the context of our business goals and the desires of our target customers (remember our earlier Growisdom – always walk in your customer's shoes.)
2021 New Zealand's Digital Landscape in 2021
Here are the hot off the press stats on Digital in New Zealand, and a few high level insights too.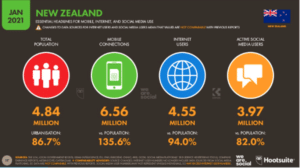 We kiwis have always been known as 'early adopters', leading the way with digital technologies. We now have more phones than people and most of us engage regularly in some form of social media and use the internet regularly.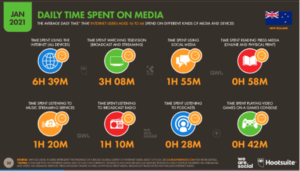 The amount of time kiwis spend on media may surprise you, but it's important to remember these figures are averages, some kiwis spend most of their waking moments connected, while others are much less. Some other research found kiwis, on average, pick up their phone 130 times a day – do a quick check on yourself tomorrow – you might be surprised!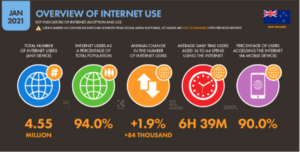 The big takeaway here is the acceleration of mobile usage, driven mainly by 4G and now 5G availability. Speed is always a key enabler.  Is your website optimised for mobile usage? Can you connect with your target customers via mobile channels? We are seeing many Grow NZ members have terrific success via Facebook Messenger, as an example.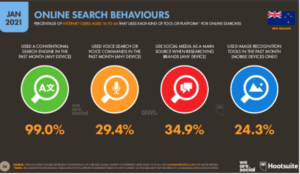 These stats are all about 'walking in your customers shoes' and form one of the two strategic pillars of profitable marketing: Demand Capture. Understanding the math, market share and margins is key, along with technical expertise to deliver profitable cashflow – and it's not just about Google…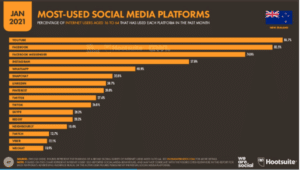 This is where things get really interesting –  and very useful for the second strategic pillar of profitable marketing: Demand Creation. Some research has found YouTube is now New Zealand's biggest TV channel, and it is often more cost-effective than TV advertising due to its more refined targeting; much less of a 'spray and pray' approach. When it comes to social media, many businesses have a single focus on Facebook or Instagram when, in fact, many can achieve much better outcomes with other platforms. This is in part because more of the target customers are there and additionally, there is often less competition. Pinterest is a great example if you want to engage middle-aged affluent kiwi females.
And note this research didn't even touch on what is still generally the most profitable marketing channel – email! But that's a topic for another day.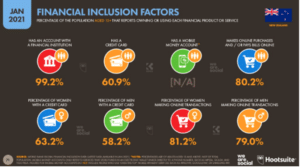 The days of being scared to transact are over, with very few kiwis not transacting online in some form. Lockdown certainly helped to accelerate this adoption, as many were forced to give online a try, even if it was only something as simple as ordering groceries online.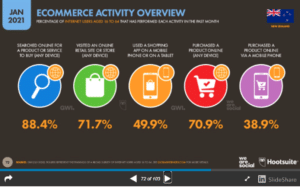 These stats show that most are searching online and if your business is not 'findable', you are staring down the barrel of what we call 'the invisible loss'.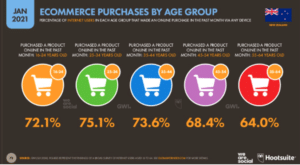 Another misconception these stats blow away is that it's just the 'young ones' online. My 73-year-old father-in-law, who lives in Australia and is a massive Technophobe, ordered a Christmas ham for our family this year, as he has done every year, but due to the border closures, he did it online… And it all worked just fine, and the ham was so yum too!
Back to the 'invisible loss'; 3.09 million Kiwis transacted a total amount of just over $9 billion last year. And I think it would be foolish to think it will be less in 2021, or the year after. Is your slice of that pie big enough?
Remember, Digital is an enabler, not the solution.
Over the next few weeks we will delve more into how we ought to go about over-managing digital.  To do this well, we must avoid those one-trick ponies who do just Google or websites – you need someone who understands your business objectives, your potential customers and the strategic options available. Rest assured you're in good hands here. Grow NZ business has already helped many, many business owners with this and we have a tonne of experience and insight to draw on. 
Access the entire Digital in New Zealand: All the Statistics You Need in 2021 Report
Reference: Kemp, S., 2021. Digital in New Zealand: All the Statistics You Need in 2021 — DataReportal – Global Digital Insights. [online] DataReportal – Global Digital Insights. Available at: <https://datareportal.com/reports/digital-2021-new-zealand> [Accessed 22 February 2021].