With Easter now behind us and Anzac Day fast approaching, it feels like we are racing through the year at lightning speed – and we sure hope your web pages are downloading just as fast, because Google has some big changes coming into effect in May that could affect every business with a website.  The world's largest search engine is changing its algorithm to include a factor called 'page experience' – and we are here this week to shed some light on what this means for your online presence and how you can use it to your advantage.
It is therefore very timely that we proudly announce a ground-breaking new partnership with US technology provider, Fast.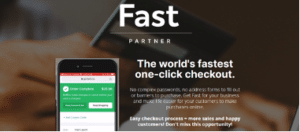 Fast offers state-of-the art login and payment options that, until now, haven't been seen or experienced by kiwi firms and their customers. Fast's innovation gets customers into your website and through your checkout as efficiently as possible. Many early adopters of Fast in other markets are seeing increased basket size  and conversion – exactly the kind of outcomes those of you 'over-managing' digital will want to see. Read on for how to leverage these two big industry developments.
I feel the need, the need for speed…
The lowdown on Google's plans
Google plans to update its algorithm in May to include a factor called page experience. This feature will be added to existing Google Search signals, including mobile-friendliness, safe-browsing, HTTPS, and intrusive interstitial guidelines. Businesses with a web presence need to make understanding these changes a top priority.
Hang on, what's a page experience?
A page experience includes all aspects of how users interact with your web pages and how engaging, or painful, that process is. In addition to page security and mobile optimisation, Google's algorithm will assess your website against its 'Web Vitals' and give you a score which will, ultimately, determine your placement in Google's page rankings.
Over-managing Google's Web Vitals
We talked about the importance of over-managing digital in one of our March newsletters – if you haven't started reviewing your web performance, now's the time! Here's some more detail on the Web Vitals Google wants us all to over-manage:

Web Vital #1 – Loading: This is about how fast your webpage downloads. The faster, the better.
Web Vital #2 – Interactivity: This is about the time it takes for a page to be ready for user interactivity, i.e. How long it takes for your page to respond to clicks, scrolls, or keyboard input.
Web Vital #3 – Visual stability: This requires work to avoid disruptive or unexpected movement of web page content.
Fast love.
A floristry client of ours, Flower Station, is well ahead of the game after making the decision to over-manage her digital marketing and seek our help with optimising her website. As you can see from the visual below, Google, who once gave her a 'F', has now awarded her a glowing 'A'. We expect she'll do very well with the Google algorithm shift.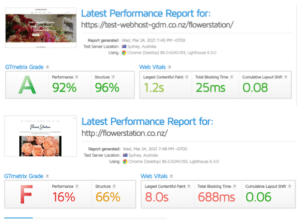 We had similar results with another client of ours, Thrive.
If you too would like some help optimising your page experience, we'd love to help. Simply send a message to grow@grownzbusiness.co.nz and we will get back to you in no time.
Speed is of the essence.
Google is making no bones about the importance it is placing on speed as part of the customer experience, so it's with great pride and excitement we introduce you to Fast, a NZ-new checkout and login technology which we think will change the online customer experience game for good.

Fast's products enable a one-click sign-in purchasing experience that makes it easier for people to buy and for merchants to sell. Fast works on any browser, device or platform for consistent, stress-free purchasing. Instead of filling in lengthy forms and entering repeat information, customers can login, pay and track purchases with a single click.
If you're after the Rolls Royce of online customer experiences, you'll want Fast in your life.
You can read more about Fast and register your interest, by clicking HERE.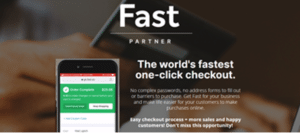 So, a busy few weeks ahead in the marketing world. As always, we are here to help. Please get in touch if you'd like to discuss your online presence and any element of your digital and/ or marketing strategy: grow@grownzbusiness.co.nz.