Over the last few weeks, we have been exploring the concept of 'over-managing' and how to use this approach to increase your business success.
This week, we have a special offer from our business partner, Microsoft, for five businesses keen to over-manage digital for their businesses.   You could score one of five $100 Bing credits to help your business reach new potential customers for profitable growth.  If you're scratching your head wondering what Bing is, read below to find out and for your chance to be in to win.
Every week, we see more and more data supporting the idea that digital is an absolute must for most businesses to over-manage, and this week is no different. Hot-off-the-press is CPA Australia's Asia-Pacific Small Business Survey, which has found that, of the 11 Asia-Pacific markets surveyed, New Zealand small businesses performed the third-worst for growth last year – behind those located in Australia and Hong Kong. Now, this is not COVID-19 driven as all markets have been impacted by the pandemic, and most of them much worse than ours.
New Zealand also ranked last out of the 11 nations for revenue generated through online sales in 2020. This presents a major opportunity for those who do choose to start over-managing digital (as we are seeing many Grow NZ members successfully do) to super-charge their growth. You can read more about the survey in this NZ Herald article.
We will dig into this a bit more below,  but first, a gentle reminder to Register here to join our 'Maximise Your Business Value' webinar on Tuesday 13 April at 10am. It's free for Grow NZ members. Just enter the code: GROWNZMEMBER in the 'Enter Promo Code' box to grab your complimentary ticket.
Now…whose business needs the Bing treatment?
No one said it would be easy.
Choosing to deliberately over-manage something does not mean it's simple! But it's an excellent first step towards success.
 
Last week, Shopify published a thought-provoking article "67 Key Performance Indicators (KPIs) for Ecommerce." My first thoughts were "67! Really?" But as I read through the article I struggled to disagree. In the end, the article reinforced two things for me:
 A specialist will always beat a generalist.

No wonder many business owners become disillusioned from the over-simplistic solutions many so-called 'experts' propose!
Ecommerce is complicated and you do need to ensure all elements of the ecommerce 'supply chain' sync up together to ensure profitable growth. We covered off a number of digital aspects of the 'supply chain' already, including the importance of choosing the right experts for the job. A good web developer, for example, might deliver a stunning website, but we all know beauty is skin deep, and just because a website looks flash, doesn't guarantee your profits will be.  For that, you also need to consider customer journeys, load speed, landing pages, keywords, SEO, CTA's (calls to action), legal requirements and so on.
The same applies to advertising channels. We've sadly seen so many 'Google Experts' and 'Facebook Experts' out there who simply do not have the breadth of market understanding or business experience to ensure your business achieves its best returns.
In fact, there are two channels many New Zealand business owners are not leveraging at all. This isn't all bad news though – as it means those who do consider them can gain significant competitive advantage by reaching potential new customers at a cheaper rate. One of these is Bing and the other we'll explore in our next edition.
It's not just about Google and Facebook.
Introducing Bing. Bing is the advertising platform provided by Microsoft through its search engine, Edge, (the equivalent of Google's Chrome browser). Our global Grow NZ Business partner, WordStream, finds business customers enjoy a 42% lower cost-per-click (CPC) using Bing compared to Google. They also see on average a 15% lower cost-per-acquisition (CPA) and a 17% increase in monthly conversions.
Bing Search ads offer a timely opportunity for kiwi businesses because they are less competitive than Google AdWords (read: cheaper to access and less competition for the limelight), and their users shop online 36% more than any other search engine.
While Google AdWords is still a very powerful tool, there are some advantages to Bing that makes it attractive for small-to-medium-sized businesses, and our recommendation for most businesses, is exhaust your opportunities on Bing first to capture demand, then look at Google if it aligns to your business goals.
More Bing for your buck.
Need more convincing? Here are four more reasons to give Bing a bash.
Bing Ads tend to reach an older, more educated, and higher-income audience

Bing's Ads tend to be "cheaper" than Google's

Bing users tend to be more engaged with sites after ad clicks. In one industry, Bing ads had a 56% higher conversion rate than Google AdWords. That's because Bing users typically have more interest in ecommerce and are willing to spend money online

Since there are fewer users on Bing, its ads tend to display higher on search results than Google AdWords. In fact, Bing ads appear 35% higher in search results than Google ads
And the chart below is a real-life example of how Bing can generate superior returns for kiwi businesses. Grow NZ Business is one of the very few select Microsoft Advertising Partners based in New Zealand, so get in touch if you'd like to learn more.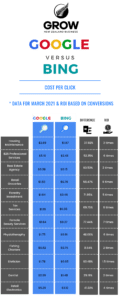 Could Bing help your business grow profitably?
We have five $100 Bing credits for Bing available – just email grow@grownzbusiness.co.nz with your contact details and we will be in contact to discuss suitability for your business.
Keep your eyes out for our next edition when we reveal the social media platform that is often 35% to 50% more effective than Facebook due to less competition and higher purchasing intent from the target audience.