I hope everyone is working through the Alert Levels ok, controlling what you can control while doing your utmost to let go of the uncontrollables, as hard as that can be.
This month's eBook, Make Your Website Work For You,  is now available via your member portal. We've timed it to coincide with the fact that, because many of us are not yet able to operate at full capacity, we've a bit of extra time to work on our businesses.
Just a few years ago, simply having a website gave a business a competitive advantage but, today, having a website is an expectation because very few businesses don't bother to have one. Your competitive advantage in 2021 is making your website engaging and functional enough to convert customers.
Let's hope we are all back into the full swing of things very soon, but in the meantime, why not make the most of that precious, limited resource – time!
Websites then…
Just over 30 years ago, on 6 August 1991, British physicist Tim Berners-Lee from CERN in Switzerland, (the European Organisation for Nuclear Research), published the first ever website and called it the WorldWideWeb (W3). Fittingly, the site was about the World Wide Web project, describing the Web and how to use it. Hosted at CERN on Berners-Lee's NeXT computer, the site's URL was http://info.cern.ch.
By the end of 1992, there were ten websites online and, in 1993, after CERN made the W3 technology publicly available on a royalty-free basis, the Internet gradually started to grow into the all-encompassing giant that it is today.
By 1994, there were close to 3,000 sites, one of which was a fledgling Yahoo!, originally called 'Jerry and David's Guide to the World Wide Web', which started its online life as a web directory.
By the time Google came onto the scene in 1998, there were over two million websites online. As the infographic below shows, there are 1.88 billion websites today and – judging by Internet Live Stats' counter – this figure is growing fast…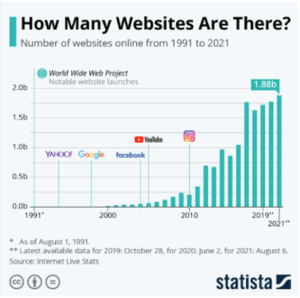 Websites now…
Needless to say, simply having a website today is no big deal. For a website to give you competitive advantage, it needs two 'F's:
Findability: We have discussed this quite a bit over the last 18 months;  a-hard-to-find website is like having a shop out in the bush with no roads, no signage and no lights on. If the right potential customers can't find it to visit,  what's the point? There is plenty of useful information in your members portal to help here.
Functionality: Or, in other words, a layout that is easy to use and navigate.  It only takes seconds to form a first impression of a person – and websites are no different. In this month's eBook, we will take you through the main reasons why visitors may leave your website and how you can solve this issue.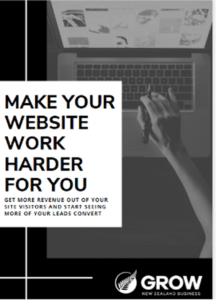 Your growing eBook collection
We've now shared 15 eBooks to your member portal, and we are working on a whopper of an eBook for our December release. We think it could be one of the best Christmas pressies you get this year! Stay posted for this one.
Access your eBooks, webinars and more via your Grow NZ Business Member's Portal Log In.