Happy December team,
This year has certainly flown by, with many challenges as we all know all too well, and thankfully Christmas is only 3 short weeks away!
With New Zealand's traffic light system coming into place this week, our businesses will have more certainty around 2022. This will take it much easier to set goals with more confidence and to achieve our goals, and we hope without the obstruction from unprecedented lockdowns.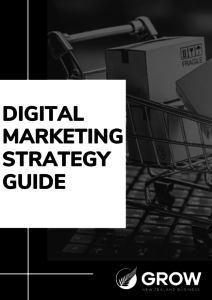 We've launched this month's eBook, 'Digital Marketing Strategy Guide' which you can find in your member's portal. This is one of our most comprehensive eBooks yet and has all the information you need from the basics to digital marketing to a more in-depth analysis into marketing strategy.
I hope you find the information in this eBook helpful to improve your business and help you achieve your business aspirations. It is comprehensive in detail, which also demonstrates the complexity of being able to execute in an expert manner with marketing. Keep in mind the old saying: "A specialist will always beat a generalist" & it is often the case with marketing. The good news is your are not on your own and we have highly specialised resources to help.
One of the popular services we offer is  our Marketing Strategy Service. If your business needs any further expert help, click here to get in touch with us!
I also want to take this opportunity to introduce you to one of newest and biggest partners yet, Gem Visa! We have partnered with Gem Visa so that businesses like yourself can offer flexible and long-term interest free payment options to your customers.
Our experience is Gem Visa can help you unlock additional revenue for your business with special offers for your customers such as flexible interest free terms- I am sure we have all seen the Harvey Norman ads before, and this opens up these types of  possibilities for your customers.
If you would like to know more or register your interest with Gem Visa, click here.
With Christmas approaching, now is a great time to promote your products and services to your customers as gift ideas, especially if you like doing your own creative!
It is important to create eye-catching and creative graphics to attract your customers. Canva is a great and easy-to-use platform that lets you create unique and distinctive designs. Sign Up to Canva with Grow NZ Business for a free 30-day trial and get creative!
Best of luck everyone with a smooth transition to the new traffic light system.
We will be back next week with our final newsletter of the year, wrapping up the 2022 planning series.
As always, a big thank you for being a Grow NZ member and if we can help in anyway, please reach out.