I hope you enjoyed the long weekend and are revelling in the knowledge we are already halfway through the working week!
We'd like to keep these good vibes alive with an update full of inspiration for you today.
First up, is an invitation to join our exclusive, FREE, webinar on 10 May to allow us to introduce you to our newest partner, Fast. Launched just last week, this NZ-first partnership could literally transform ecommerce growth for your business with Fast's new safe, easy and of course, fast, login and checkout method. Find out more and register here.
We're also here with a great kiwi business growth story this week from another of our partners, 2B Connected. Grant and Jemma are walking the talk when it comes to over-managing important areas of their business and reaping the rewards of profitable growth. 2B Connected may also be an excellent option to accelerate your business revenue growth profitably.
Prepare to be inspired… 
The 2B Connected Story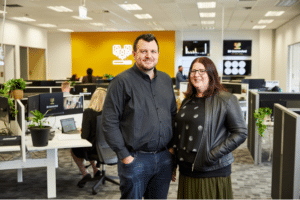 Grant Walker was working in Melbourne and looking to outsource lead generation to NZ when he discovered a gaping hole in the market.
"I was working for a company at the time and it was well known that NZ contact centres were much more cost effective than Australian ones, so I was asked to research the market for kiwi support when I realised what I needed didn't exist. I was struggling to find a service I felt would be sustainable from a client-management point of view, and the ones I did contact, never got back to me."
It was a bit of a lightbulb moment for Grant, who went home and spoke to his wife, Jemma, about what to do about the opportunity. Together, they agreed to quit their jobs, pack up their Melbourne home and move their family to Christchurch, NZ, to pursue their business dreams of delivering a reliable, client-focussed, truly kiwi contact centre service.
Three short years later, 2B Connected is a successful lead generation and customer service business offering B2B and B2C telemarketing and customer service support. Grant and Jemma both work full-time in the business, employ up to 120 people and service clients in Australia, NZ the UK and the USA. Business is booming. Here's why…
They over-manage their point of difference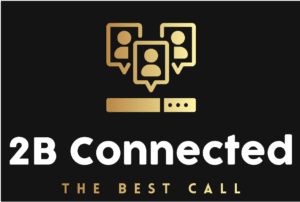 "We are unique in what we offer," says Grant. "At 2B Connected, we are 100% kiwi owned and operated and we have made a firm commitment that we will never, ever move any part of our operations offshore."
He says the local drawcard is increasingly important to customers, as more and more people understand the practical and financial benefits of supporting local. "Covid has shown us the true value of local. People value human connection more than ever, and those companies that outsource internationally are now finding they have no means to travel to connect with overseas employees. Having everyone in our team here in Christchurch keeps us tight and local and, ultimately, more accessible to our clients."
Grant says being locals who have started their own business from scratch makes them more relatable too. "We started from the ground up, as many kiwi businesses do. We know the rollercoaster ride that journey can be and we can speak from experience about the pitfalls to watch out for. We are happy to share that knowledge with our clients because we ultimately want to see them grow. That's our ultimate goal. We've had a few sleepless nights ourselves over the years but we always come back to the point that if we look after our clients, we'll be ok."
They over-manage employee wellbeing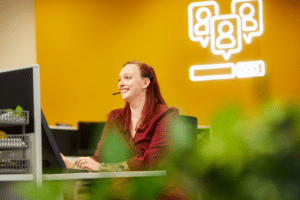 2B Connected really cares about its people. It pays its staff above market rates and offers spacious offices to work in, complete with a fully-fitted out kitchen and on-site gym. "Our people are our point of difference and we make a big effort to look after them because we know if we can attract and retain great people, the business will generate great results."
They over-manage marketing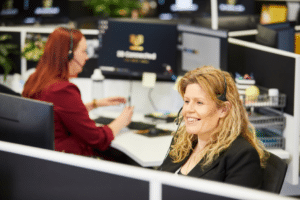 "We practice what we preach and do our own telemarketing for our business," says Grant who has noticed that, over the past 12 months, there has been an increasing amount of interest and awareness around the value of outsourcing lead generation and customer service tasks.
"Not only does outsourcing lead generation allow sales teams to focus solely on closing a sale, it's a relatively risk-free way to grow your business. Outsourcing the task of drumming up demand for your business is much less risky than employing full-time employees to do it, not knowing whether you'll grow to the levels you hope to. Furthermore, outsourcing to 2B Connected means you get strategic business advice alongside the service – we really want our clients to succeed."
Grant says another thing many businesses ought to consider in today's climate is the increasing value of human connection. "Digital transformation is crucial for companies wanting to grow and scale their business, but it shouldn't be at the expense of one-to-one connections. People really value human connection and a timely telephone call can often build a relationship faster than a targeted ad."
Looking ahead
By leveraging increasing demand for connection, a growing awareness of supporting local and a company of engaged employees, Grant and Jemma's company has flourished over the past 12 months and they have plenty to keep themselves busy. "We just hope for more of the same for the years ahead; It's a great feeling being able to take on more local employees and provide work and income for people. We're investing in new technologies at the moment to keep us one step ahead and we'll continue our quest to keep our clients growing."